Abov App Top 10 Whiskeys of 2018
Almost all whiskey has become highly desirable, but some bottles still are more coveted than the rest. Based on the wishlists of our community, below are the Top 10 Best Whiskeys of 2018!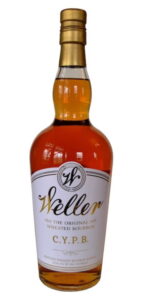 We're going to kick off the Top 10 Whiskeys of 2018 list with a unique bourbon from a famous name, Weller C.Y.P.B. or "Craft Your Perfect Bourbon". In a mild bit of genius from Buffalo Trace, the distiller asked its fans to go online and "blend" their favorite BT flavor profiles into the perfect bourbon. Thousands of votes were tallied, and the result was this deliciously wheated dram that Abov users can't get enough of.
Or rather, maybe literally can't get enough because this is a hard one to find…
9. Ardbeg Grooves - Committee Release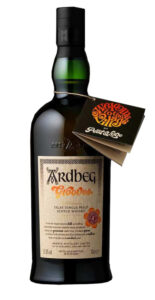 Annual releases from the Ardbeg Committee are always in high demand, and 2018's Ardbeg Grooves edition is certainly no different.
Grooves gets its names from the grooving inside the ex-wine casks used in the maturation process. These notches or grooves cut into the inside of the barrels theoretically create more surface area to impart more wine flavor. According to reviews, the wine flavors definitely cut through the traditional Ardbeg peat.
8. Glenallachie 12 Year Old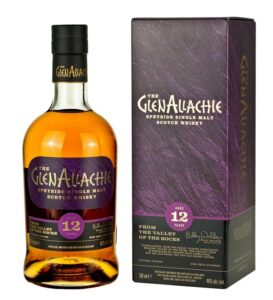 Another classic that continues to find its way on to Abov wishlists, the 12 Year old from Speyside's Glenallachie.
This approachable bottle shows off rich, dark fruits, light honey,  and hints of syrup and chocolate.
Not overly complex, but a well rounded single malt nonetheless, and one that comes in at the 8th spot on the Top Whiskeys of 2018 list.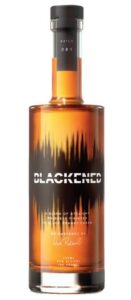 Two words: Metallica. Whiskey.
Unlike most celebrity whiskeys that are either owned or loosely associated with a famous spokesperson, this brandy-finished American Whiskey is… different.
According the Blackend Website, basically the barrels are serenaded with Metallica's heavy metal as they age, keeping the liquid in motion and better incorporating the woods flavors. 
We actually tried another blackened whiskey, the rye, to separate 'gimmick' from 'science' and were surprised by the results.
6. Bunnahabhain Toiteach a Dhà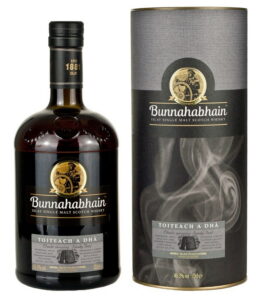 For a non-native speaker, talk about a mouthful. Pronounced toch-ach ah-ghaa and translating to "Smoky Two", this is the sequel to the original release from Bunnahabhain.
This no ages statement bottle blends peat, smoke, and rich sherry in a subtly delicious way that still lets the classic flavor of Bunnahbhain's malt come through.
5. Johnnie Walker White Walker

In a perfect celebration of pop culture and whiskey, Diageo recognized the incredible popularity of HBO's Game of Thrones series with an entire lineup of specialty labels and Abov users loved it. Johnnie Walker took a unique angle on their edition, focusing on the much maligned White Walker zombie antagonists.
Looking to the whiskey itself, this blend from the well established Johnnie Walker brand is light, floral, and vanilla forward. 
4. Port Charlotte 10 Year Old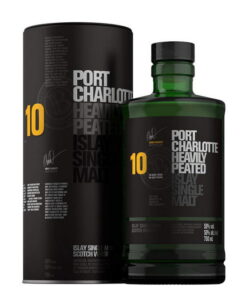 Switching from a peated special edition to a peated classic, number four on the list of the Top 10 Whiskeys of 2018 is the heavily peated bottle of Port Charlotte 10 Year Old from the Islay distillery Bruichladdich.
Aged in a blend of bourbon and wine barrels, the dark fruit and oaky sweetness tackles the peated smoke head on in this well balanced single malt from the Port Charlotte label. Consistently an overachiever,  this bottle is a must have for any of you starting your journey into peated Scotch.
3. Lagavulin 9 Year Old - House Lannister

Did we mention Game of Thrones whiskey? Because Diageo really leaned into this co-branding opportunity series with a release for each "house" from all of their major brands. According to you, the most intriguing of all these novelty releases was (naturally) the "House Lannister" Lagavulin 9 Year Old.
If you "drink and you know things", then you will recognize that any aged release from the Lagavulin distillery is going to be a well peated and smokey masterpiece, and this special edition bottle is no different.
2. Aberlour Asg Annahm, Batch #001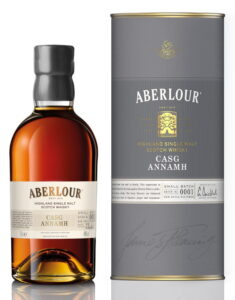 From smokey and sweet to bourbon and sherry, the second most wanted whiskey of 2018 is the Asg Annahm release from Speyside's Aberlour.
For the Abov Community, this one is all about the finish. A viscous, medium bodied finish extends the flavors of this "Rare Cask" from Speyside's Aberlour in the inaugural  release of the  Asg Annahm.
1. Glenfiddich Experimental Series #4 Fire & Cane
Smokey peat meets rum & sugar cane sweet. That is exactly the unexpected combo that is highlighted with 2018's first top release and the fourth release in Glenfiddich's Experimental Series; Fire & Cane.
The delightful mix of peated malt and rum finish make this dram an intriguing pick. Smokey & sweet can be a great combination, and definitely an unique combo in the world of Scotch.