Top 10 Best Sweet Whiskeys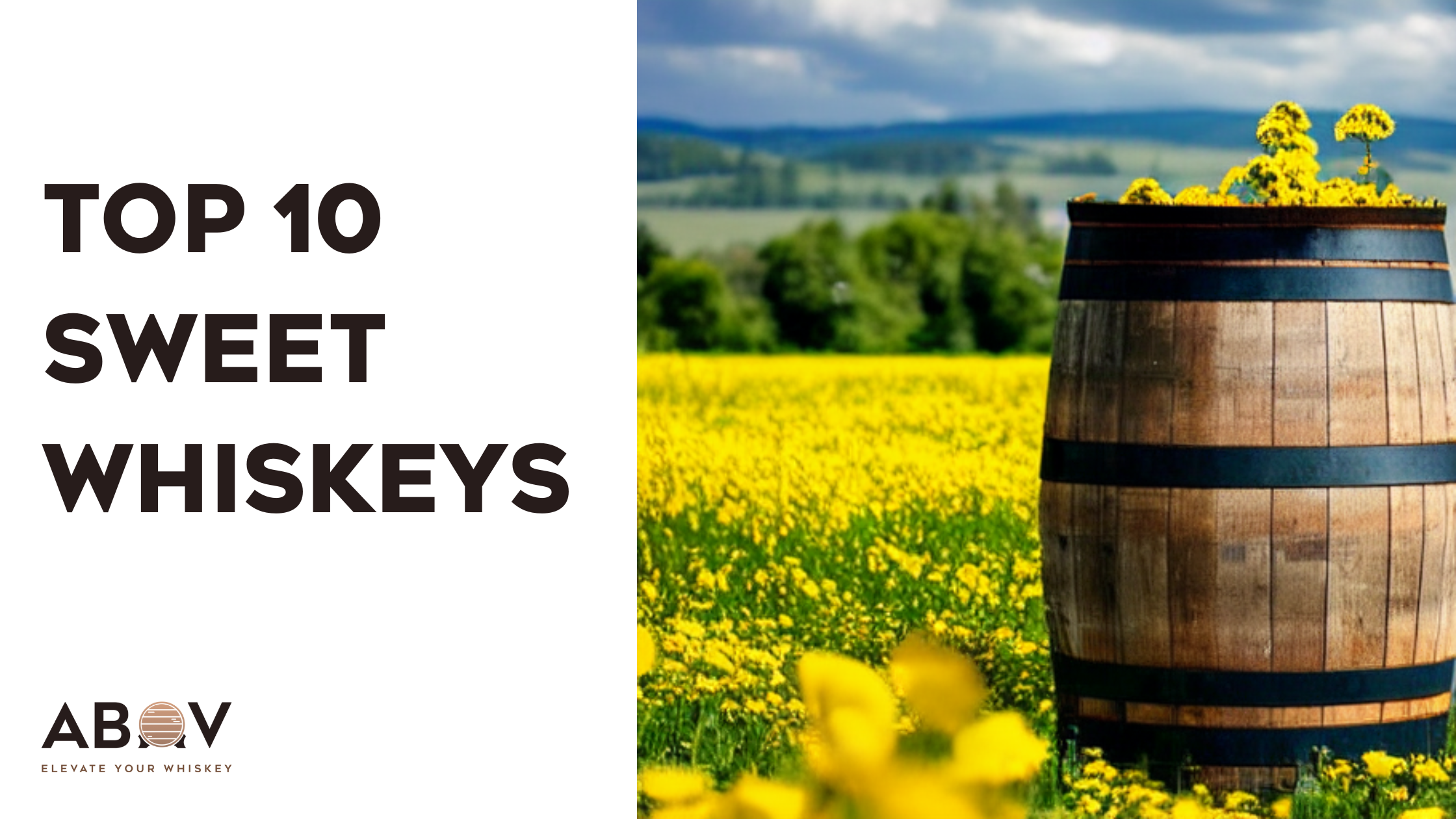 For many whiskey fans, their journey to enjoying their whiskey neat started elsewhere. Maybe you started with wine or beer, whiskey cocktails, or with some other delicious spirit. Starting down the path to exploring whiskey can be overwhelming, but we at Abov are here to help!
May we suggest starting with a sweeter whiskey?
Sweet whiskeys are not for everyone, especially not for more seasoned drinkers. But a good, sweet whiskey can be a perfect introduction to Scotch or bourbon, particularly for people who usually only drink cognac, brandy or other similar liquors. Or if you already enjoy a good Old Fashioned cocktail, these may be a nice transition to trying your whiskey neat.
The following are the 10 Best Sweet Whiskeys as rated by the Abov community.  Let us know if we missed one of your favorite American Ryes in comments, and as always, be sure to check out the Abov App for even more whiskey ratings and reviews!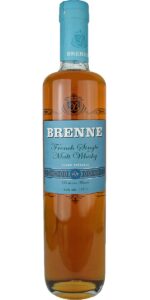 The French are better known for their wine and other spirits, but the first entry on the list is single malt whiskey from France's Brenne distillery.
Aged in European Oak and Cognac Casks, this dram is met with mixed reviews. Some seem to love it, others not so much.
What every reviewer seems to agree on is the sweetness. Oddly, the most consistently highlighted flavor note is bubblegum. Definitely not a common whiskey tasting note, but may be worth a try if that is your preference.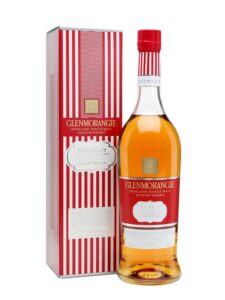 When it comes to single malt Scotches, aging in a combination of former bourbon and red wine barrels is quite common. However, leave it to Glenmorangie of the Scottish Highlands to turn these standard inputs into something quite unique.
While many bottles from Glenmorangie are on the sweeter side, the Milsean edition (whose name itself is derived from an old Irish word meaning a sweet or delicacy) leans in on the sweetness.
Many reviews suggest it tastes like candies, with some going as far as to say it tastes just like a Christmas candy cane!
3. Auchentoshan Three Wood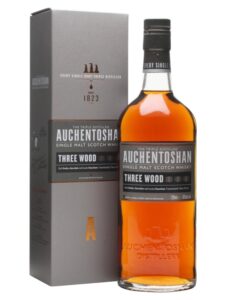 Another single malt from Scotland, but this one with a very different take on sweet. With a classic combo of Sherry Butts (Oloroso and Pedro Ximénez) as well as bourbon barrels used in the maturation process, the resulting Auchentoshan Three Wood is a more full-bodied sweetness.
A pour of this bottle features dried fruits, caramel, vanilla, chocolate, and raisins. The more complex barreling produces a more complex flavor palate, but one that should still appeal to those looking for a sweeter whiskey.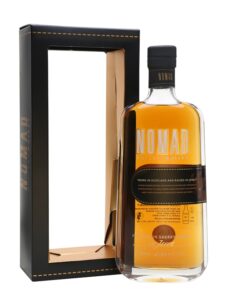 Although this unique blended whiskey is technically aged and bottled in Spain (another non-traditional whiskey locale) the 30 or so underlying single malt and single grain whiskeys were all sourced from Scotland. It then completes its aging in Sherry butts at one one of the largest Sherry wineries in Spain.
Unsurprisingly, the end product is an absolute Sherry bomb! If you are a fan of dessert wines, and the dark fruit, berry, and raisin flavor associated with PX Sherry in particular, you may have found your new dessert whiskey.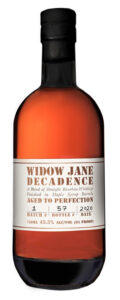 Ironically, the only American Bourbon on this list is not from Kentucky or the surrounding areas, but in fact New York City, or Brooklyn to be exact.
Widow Jane has established itself as being able to compete with the big boys of bourbon with some of its impressive and well aged offerings.
The Decadence release is the standard 10 Year Old bourbon, finished in Maple Syrup barrels. As the name implies, this one is so decadently sweet, it really makes it a dessert bourbon. Or maybe  a breakfast bourbon, with pancakes obviously.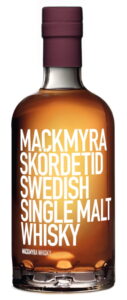 We are truly trekking the globe with this list of the Top 10 Best Sweet Whiskeys, heading to Sweden with the Mackmyra Skördetid. Three wine casks are used in the making of this Nordic single malt; Oloroso Sherry, PX Sherry, and Amarone.
Lots of sweet, dark fruits and cherry come through, providing an almost Manhattan cocktail-like flavor experience, which is very unique in a single malt whiskey.
7. Glenmorangie Nectar d'Or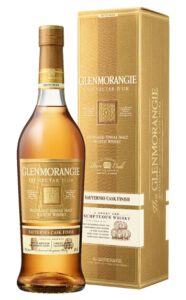 The Sauternes cask finish is what sets apart the Glenmorangie Nectar d'Or, or "Golden Nectar" single malt. Sauternes is a sweet, white wine commonly produced in the Bourdeaux region of France. I think you know where this is going…
Many in the Abov community noted the delicate citrus, honey, and vanilla sweetness they got from this one. With the brighter side of the sweetness emphasized, this is a refreshing whiskey that may be best enjoyed outside on a late summer night.
Compass Box is a Scottish brand who have completely reinvented  the often maligned Blended Whiskey category. It has the perception of many scotch drinkers to be inferior to the single malt variety, but Compass Box disagrees.
With this release, the name says it all. Technically a flavored whiskey, what starts as a blend of malt and grain whiskey is infused with orange zest, cassia bark, and cloves.
This one may be a bit to to sweet and orange forward to sip neat, but should surely open up with some ice, and potentially go quite well in a summer cocktail.
9. Deanston 18 Year Old Cognac Matured
We will round out the list with a couple drams that although may  be on the sweeter side, will likely appeal to experienced sippers as well.
Coming in at 18 years old, a third of that time was spent in ex-Cognac brandy casks. This extra time brings a lot of extra woody flavor, balanced with notes of plums and sweet Deanston malts.
Cognac, not unlike whiskey, is an acquired taste, and a Cognac aged whiskey could be an interesting transitional dram
10. Balvenie 14 Year Old Caribbean Cask
Last but not least of the Best Sweet Whiskeys is the 14 Year Old Caribbean Cask Finished single malt from Balvenie. What exactly is a Caribbean cask you ask? Well, a barrel previously used to age Caribbean rum.
If you are not a big rum drinker, rum naturally is a sweeter spirit, produced from fermented and distilled sugarcane molasses that can be bottled directly off the still, or aged in barrels similarly to whiskey.
As one might expect, finishing scotch in rum barrels adds a rich, molassesy sweetness that is next level. 
You may want to visit your local dentist after sampling some of the extra sweet whiskeys. From syrup to sweet fruits and bubblegum to rum, there is something for every dessert and candy loving sweet tooth to try.
What are your thoughts on our Top 10 Best Sweet Whiskeys? Do you have other beginner whiskeys or sweet flavored drams you would suggest to help others transition into the world of whiskey? Leave your personal recommendations in the comments below!