Top 10 Halloween Whiskeys for Spooky Season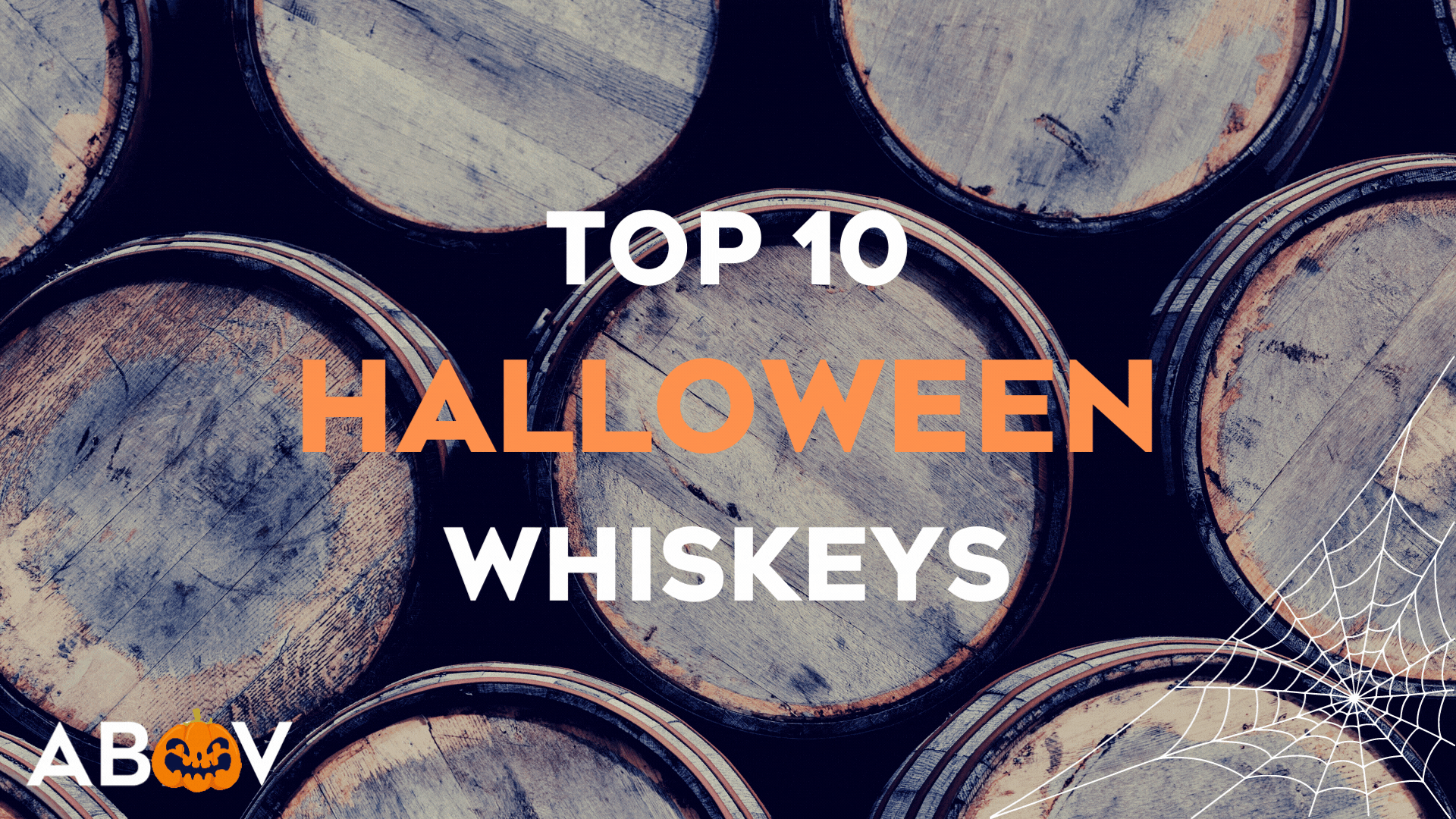 Spooky Season is in full swing, but nothing says "Adult Trick-or-Treat" like a Halloween Whiskey. What exactly makes it a Halloween whiskey, you ask? Well, some of these tasty bottles have an outright Halloween theme, while others just fit the month of October with their dark, demonic, or scary names or bottle presentation. Below is the Abov team's list of the Top 10 Halloween Whiskeys. 
Have you tried some of these devilish drams? Let us know your favorite in the comments and be sure to leave your full tasting review in the Abov App!
1. Smoke Wagon Glow in the Dark Halloween Edition 2022 Bourbon

Starting off very literally with this one, as it has Halloween right in  the name! To be clear, this is just the standard straight bourbon from the Nevada-based Smoke Wagon brand, just with some spirited packaging. However, as implied by the name, all those creepy skeleton arms glow in the dark, which will surely impress your party guests or adult trick-or-treaters. 
While Smoke Wagon does a number of gimmicky bottles for different occasions, if you enjoy the MGP juice inside, especially for the price, why not pick up a bottle!
2. Pumking Pumpkin Whiskey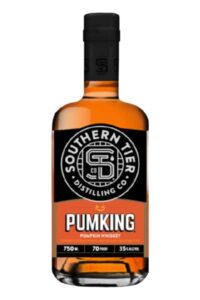 A risky choice on the part of the Abov team to even mention a flavored whiskey, but no Top 10 Halloween Whiskeys list would be complete without a little pumpkin. As implied by the name, this one is "king".
Distilled by Southern Tier Distilling, the distillery offshoot of the NY based craft brewery, Pumking Pumpkin Whiskey starts off as the same mash as the very popular Pumking beer.
Trying to sip this neat may not be the best option, as it is aggressively sweet, but it definitely has Halloween pumpkin old fashioned potential.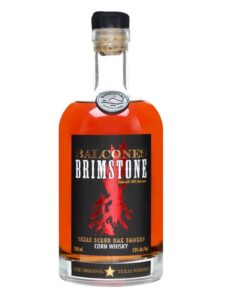 Hellfire! Brimstone! Double, Double, Toil and Trouble! It's all a bunch of Hocus Pocus!
All of that *ahem* clearly segues to the next Halloween Whiskey on the list, Balcones Brimstone. A 100% blue corn whiskey from deep in the heart of Texas, this one derives it's name from the "Texas scrub oak" smoking the corn undergoes before distillation. 
Although peated smoke is a flavor common in the scotch world, the smoke on this whiskey is pure Texas campfire.

Halloween is commonly associated with monsters of the night and smokey/foggy imagery. Ardbeg is commonly associated with smokey/peaty flavor, and what is a wee beastie but a little monster?
So that one may be a bit of a stretch, but it's too delicious not to include on this list. The little brother of the very popular 10 year old expression, the Wee Beastie brings that classic Ardbeg punch, but lacks a bit of the refinement brought on by the extra aging. Still, an excellent dram for any of you peathead's on All Hallow's Eve.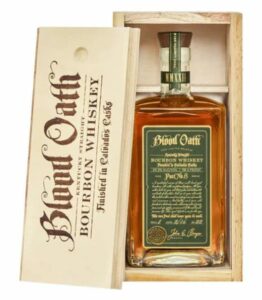 Looking to make a deal with the devil this fright night (likely to get your hands on some of that hard to find, highly allocated whiskey)? Why not make it a . . . blood oath!
This uniquely blended and finished bourbon is released annually, with 2022 marking Pact No. 8 in the series. The various Blood Oath releases really push the envelope with how bourbon finishing impacts the flavor. Leveraging everything from Rum, Cognac, and Calvados in the latest pact, this is a hard to find whiskey that generates a lot of buzz every year.
6. Arran The Devil's Punchbowl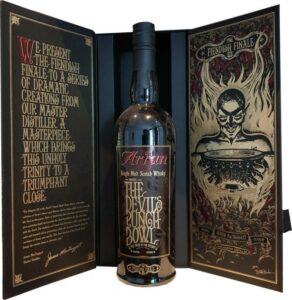 Speaking of dealing with the devil, you will definitely need to sell your soul to get your hands on the six six sixth entry on our Halloween Whiskey Top 10 List.
There are 3 releases in this "Unholy Trinity" of single malts, all of which are a blend of hand selected casks from Arran's Master Distiller. Featuring a mix of peated and unpeated malts, as well as bourbon cask and sherry butt aging, this truly is a devilish mix of smoke and blood.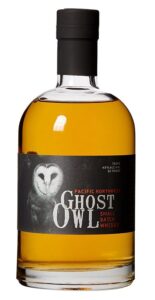 Another spooky sip, this one hails from Parliament Distillery in the Pacific Northwest of the United States. A small batch American Whiskey made of Washington state sourced malted barley and aged in the smaller quarter casks, Ghost Owl has notes of toffee, vanilla, and roasted coffee.
Fun fact: a Ghost Owl is not some evil, undead, avian nightmare, but in fact a nickname in the United States for the common Barn Owl due to it's pale white face and sunken black eyes.
8. The Walking Dead Bourbon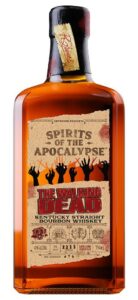 Unfortunately it would be almost impossible to make it through a themed list like this in 2022 without a little gratuitous product placement. Hence, inspired by the hit television program, you have The Walking Dead Kentucky Straight Bourbon Whiskey from the Spirits of the Apocalypse.
Definitely more of a novelty for those fans of the show, the upside is that it's not egregiously over priced, and consensus in the Abov App is that it's generally a decent bourbon, especially in mixed drinks. If you enjoy the show or just Zombie related bourbon in general, this bottle may be for you! 
9. Highland Park The Dark
Of all the undead, demonic, satanic, fiery, and . . . pumpkin . . . themed bottle on this list, none of these things may be more terrifying than the dark itself.
Highland Park The Dark, is a 17 year old special release aged in Sherry seasoned European Oak casks. Fitting to the name, The Dark comes not in the standard clear bottle, but instead is bottled in opaque black glass, adding to the enigmatic nature of this single malt.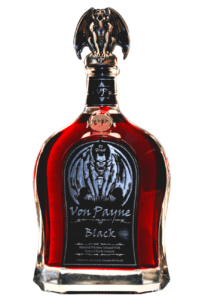 We did it again. Another flavored whiskey. But to be perfectly honest, this single bottle inspired the creation of this entire list. From it's Black Currant-infused blood red color to it's clever naming all the way to it's iconic gargoyle pour spout, this bottle is guaranteed to garner a lot of attention on Halloween.
The tart, berry flavor will certainly have whiskey purists turn their nose, but taken as what it is, it is definitely a unique spirit, and the perfect capstone to Abov's Top 10 Halloween Whiskeys for Spooky Season list.
Whether you are hosting guests for a spooky party or looking for a little something to aid in your grown-up trick-or-treating, you can't go wrong with any of the above whiskeys.
Have a favorite or want to recommend another great dram perfect for Halloween? Leave your thoughts in the comments! From all of us at Abov, Happy Halloween!