Battle of the Drams
You blink. All around you are revelers decked out in a music band's merch inside a dingy local music venue / bar loudly retelling stories of previous concerts and vigorously debating which song is the band's best work while waiting for them to take the currently well-lit stage. A twinge of old smoke fills the permanently damp air inside the storied and well-worn establishment. A busy bartender jams to a song that is only playing in their own mind while filling your simple order: a whiskey, neat. You receive the drink in a pitiful clear plastic container reserved for such places as a risk mitigation against broken glass. 
Suddenly, the lights dim. A brief silence quiets the raucous followed by a wave of excited cheers. The band takes the stage. They are…the distillers of the whiskey in your cup! You sip, confidently.
Yes, indeed, many musicians out in the world are beginning to branch out into the world of spirits distillation.  This little foray into making adult beverages enjoyed by concert-goers is not limited to local artists or eclectic eccentrics.  No, world-famous, legendary artists, such as Bob Dylan and Willie Nelson, are getting into the alcohol market as well.
To better understand this trend and to test whether it is merely a one-hit-wonder or a triple (distilled) platinum seller, the Abov Team taste tested several whiskey product offerings from some of our favorite musicians. The whiskeys we put into our jar-o's were following:
FEW Brainville Rye Whiskey by The Flaming Lips
Old Camp Peach Pecan Whiskey by Florida Georgia Line
Catoctin Creek Ragnarok Rye by Gwar
Blackened Rye the Lightning by Metallica
Bahnbrecker Slow River Blend by Randy Rogers
Each of these five were blind tasted by the Abov team. Although we all generally knew what whiskeys were involved, that was the extent of the information given as we dove headfirst into these musical drams.
Before we get into the results of our team tasting, here is a little more information about each of these band owned whiskeys and the rockstar musicians (and distillers) behind them!
FEW Brainville Rye by the Flaming Lips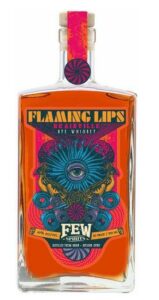 American psychedelic/indie/punk rock band the Flaming Lips teamed up with Evanston, Illinois based FEW Spirits to release Brainville Rye.
From what we can tell, this is more a licensing deal than a true collaboration, with FEW leveraging their standard Rye mash bill to brand this release with an admittedly very cool Flaming Lips inspired label.
Old Camp Peach Pecan Whiskey by Florida Georgia Line
Next we head south for Country music mega duo Florida Georgia Line's Old Camp Peach Pecan Whiskey. Although Old Camp, which is owned by FGL, has expanded their whiskey lineup, the Peach Pecan flavored whiskey is the original.
While we're sure that the opinions on flavored whiskey are as varied as musical tastes, we couldn't help but try this unique blend.
Catoctin Creek Ragnarok Rye Whiskey by GWAR
Our third whiskey is a Virginia collaboration of intergalactic proportions. Richmond-based metal band GWAR teamed up with Purcellville, VA distillery Catoctin Creek to unleash Ragnarok Rye.
Catoctin Creek is already a bit of a rockstar in the rye whiskey world, but the fully immersive collab wit GWAR is a winner, whether you are a fan of the band, Norse mythology, or cool looking bottle toppers.
Blackend Rye The Lightning by Metallica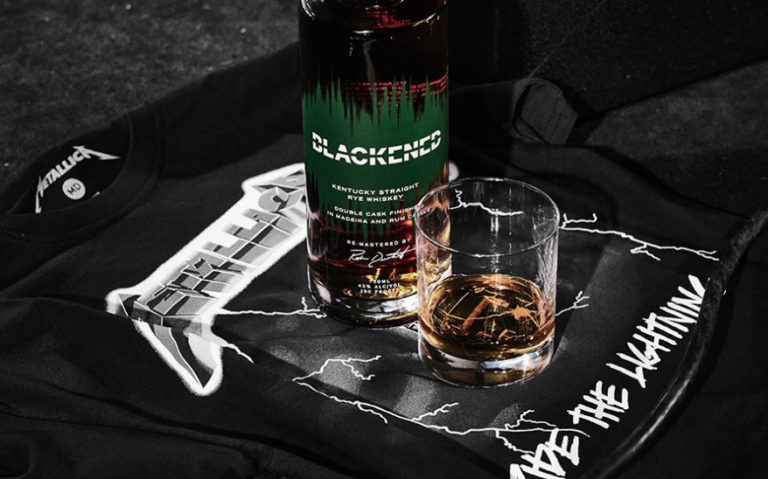 Another metal band related Rye Whiskey project, this one from Metallica's own Blackened brand. In a follow up to the Blackened Whiskey come a rye, aptly named Rye the Lightning.
Lying somewhere between clever gimmick and rock & roll science, all of Metallica's whiskeys are serenaded with high volume Metallica music, with the intense vibrations keeping the aging whiskey in motion and interacting with the barrel. 
Bahnbrecker Slow River Blend by Randy Rogers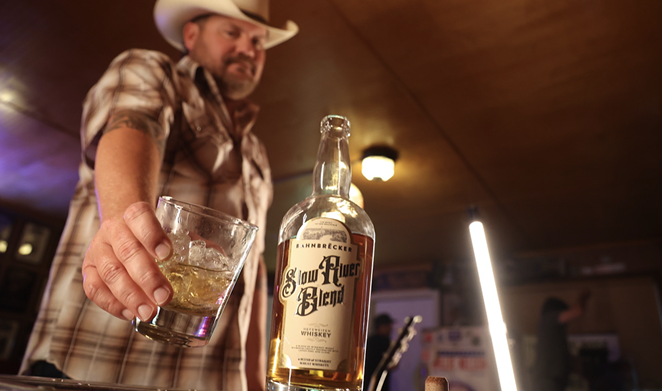 Last up, from Texas Country musician Randy Rogers is probably the most unique whiskey on the list. Celebrating his Texas hometown's heavy German influence, he started Bahnbrecker Distillery where they created Slow River Blend, a Hefeweizen whiskey.
You read that correctly, using a wheat heavy mash that forms the same starting point as the popular German Hefeweizen beer, the liquid is instead distilled into a whiskey.
Each of these presented their own experience to us.  All have their place.  We indeed recorded our taste test session that we did; however, it may remain "in the studio" and never get "released on vinyl", as it were. In lieu of sharing our embarrassing debut, we offer a summary of our experience here:
Best Bottle Presentation and Marketing:  Ragnarok Rye
Most Unique Flavor:  Tie:  Slow River Blend and Old Camp Peach Pecan Whiskey

Note:  Old Camp Peach Pecan Whiskey is

very sweet

and is best enjoyed more as a liqueur than a liquor.

Best Quality:  FEW Brainville Rye
Best Price Per Experience:  Ragnarok Rye
Gotta Have It Again:  Ragnarok Rye
For us, Ragnarok Rye was a clear winner in many elements.  GWAR has done a stellar job at offering everyone from the first time drammer to the whiskey connoisseur a hardcore punk rock experience, punctuated by quite simply the most metal bottle-topper that the Abov Team has seen in quite some time.  I'll be taking mine with me to the grave, thank you.
To the reader, we recommend Ragnarok Rye.  Of course, these whiskies are available through the various Abov affiliates, which can be accessed through our affiliates link at:  https://www.abovapp.com/abov-affiliate-disclosure/  The only exception to this was Slow River Blend, which can only be purchased through Bahnbrecker at https://www.bahnbrecker.com/
Did you know that musicians were getting into the whiskey business?  Have you tried any of these whiskies?  Write a review in the app, and tell us about your experience!
Note:  We will have a companion piece to this article regarding Metallica's Rye the Lightning to share a more in-depth description of our experience with the whiskey, so stay tuned for that!