Top 10 Best American Rye Whiskeys
Rye Whiskey, everybody's second favorite style of American whiskey, is definitely having a moment right now. With it's roots dating back to the early colonists who first settled in North America, Rye Whiskey increased in popularity through the times of the founding fathers of the United States, until the Prohibition of alcohol really killed the market. Rye actually may be more American than Bourbon, despite bourbon's worldwide presence.
By US standards, Rye is regulated very similarly today to Bourbon, requiring a mashbill of at least 51% rye grain (compared to the 51% corn needed for Bourbon) and also demanding aging time in virgin American Oak barrel. Rye uniquely features a bolder, spicier, herbal and pepper flavoring compared to its sweeter cousin. But this robust flavored whiskey is experiencing much of a renaissance, gaining traction in cocktails and by the glass  all over the globe.
According to the Abov community, the following are the 10 Best American Rye Whiskeys you can find.  Let us know if we missed one of your favorite American Ryes in comments, and as always, be sure to check out the Abov App for even more whiskey ratings and reviews!
Let's kick off this list with one of the crazier bottles of the bunch; Barrell Seagrass. Barrell is known for their innovative take on classic whiskeys, and Seagrass is no different.
What starts as a properly aged rye whiskey gets finished in a tantalizing combo of Apricot Brandy, Madeira Wine, and Rum barrels.
The herbal and spicy rye notes are balanced with fruity and floral notes coming from the unique finish.
Despite being best known for Old No. 7, Jack Daniel's doesn't mess around when it comes to it's rye whiskey either. With a mashbill of 70% rye, 18% corn, and 12% barley and bottled at a barrel proof of 56%, this rye is coming in HOT!
Abov users can't quite seem to put their finger on what's going on when this dram is in your class, with varying notes of pancakes, banana spice, vanilla, cinnamon, and cherry have all been suggested.
"Van Winkle has a Rye?"
While most of the hype is around the iconic Pappy Van Winkle Bourbon, they quietly also have a 13 year old Rye Whiskey in their lineup.
The consensus seems to be while it is very good, it is also a very straight forward Rye. Nothing really sets this one apart beyond the Van Winkle name. Could be why everyone is just chasing the bourbons…
7. Sazerac Thomas H. Handy Antique Collection
Keeping things interesting, (and likely incredibly difficult to obtain) is the Sazerac Thomas H. Handy Antique Collection release. Aged for 6 years, these high proof high rye whiskeys certainly generate a lot of hype. 
While these highly limited releases vary from year to year, all of them score very well with the Abov community. Unfortunately, getting a bottle from Buffalo Trace is much easier said than done these days, so snag a pour if you see it available at bar.
6. Rossville Union Barrel Proof Rye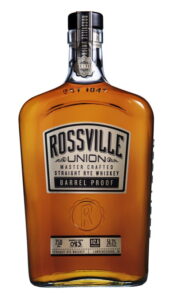 Sticking with a another barrel proof rye whiskey, this one from US mega-conglomerate distillery Midwest Grain Products, aka MGP. 
Depending on who you ask in the whiskey community, MGP products can get a lot of flack. This is mainly because there are a lot of brands that very non-transparently bottle MGP barrels and claim them as their own.
Either way, MGP is clearly doing something right with this well loved American Rye Whiskey.
A delicious rye calling neither Kentucky, Indiana, nor Tennessee home, A Midwinter Nights Dram is from Utah's own High West Distillery.
Another whiskey whose annual release as become even more in demand, Midwinter Nights Dram features a port finish that transforms this spicy rye into something resembling… Christmas Cookies?
A wealth of sweets and spices that, as the name implies, is perfect for those cold winter nights.
Kentucky Owl is a relative newcomer to the Kentucky Whiskey scene, "re-established" in 2017 by the great great grandson of the pre-prohibition era distillery's original founder.
Whether it's family legacy or a great taste for whiskey, Kentucky Owl products have been flying off shelves and at high price points as well.
Although their range of whiskeys is slowly growing, their straight rye whiskey has been an instant classic. No frills or gimmicks here, just solid whiskey.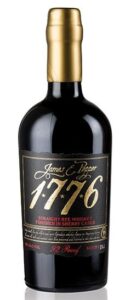 Next up on the list of the Top 10 Best American Rye Whiskeys is another finished bottle, this time with some extra time in Pedro Ximénez Sherry Casks.
1776 is Lexington, Kentucky distillery James E. Pepper's flagship line, but this Sherry finished straight Rye is a more limited release of the standard version.
With a long, complex finish and a balance of rye spice and a dark fruit sweetness, this one is worth the pickup if you can track it down
The last few bottles that made the list are some big hitters. Equally difficult and expensive to acquire, but arguably worth the price. Lock, Stock & Barrel is a range of high end Rye Whiskeys, from 13 to 20 years of age.
The barrels that are blended to bottle this line are sourced from some of the best aged stock in Indiana, Kentucky, Pennsylvania, and also Alberta, Canada.
1. WhistlePig The Boss Hog IV - The Black Prince
No list of the best American Rye Whiskeys would be complete without an entry from WhistlePig, and more specifically without their super premium Boss Hog release.
WhistlePig almost single handedly created the high end Rye market with their annual Boss Hog releases. While many of them scored highly, it was the Black Prince that took the prize of highest rated Boss Hog (and also overall highest rated American Rye with more than 5 ratings).
This edition spent time in ex-Armagnac Brandy Cask, causing the flavor to swell between maple and stonefruit sweetness to intense peppery rye spice.

Although this specific release is nearly impossible to obtain, you can get your hands on the 7th release in the series: Magellan
American Rye Whiskey has come a long way since its inception with the early colonists that first settled in America. Today, it's a highly sought after category, with many new craft distilleries focusing on the style.
Likewise, Rye Grain distillation has been exported across the globe. While Canada has always been known for it's take on Rye, many smaller European distilleries have been experimenting with the grain as well.
Do you agree with our Top 10 Best American Rye Whiskeys, or did we leave some of your favorites off the list? Leave your recommendations for must try American Ryes in the comments below!