Top 10 Best Irish Whiskeys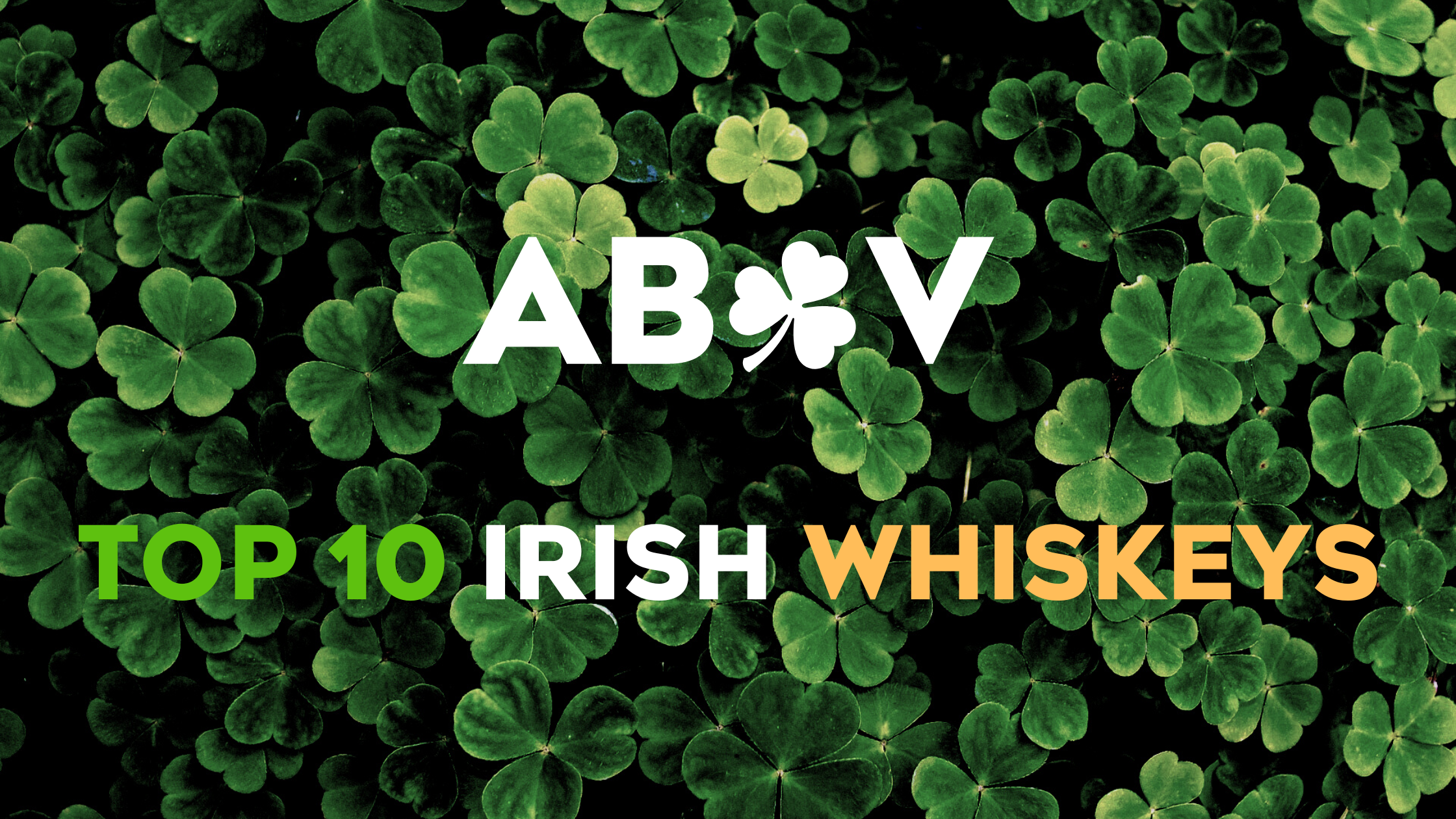 Whether you enjoy the style year round, or just on St. Patrick's Day, there are some truly delicious Irish Whiskeys out there that can keep up with the even best bourbons or Scotches. Ireland is arguably the birthplace of whiskey, and although the global prominence of Irish Whiskey isn't quite what it once was, you can't go wrong with a great dram from Ireland
To help you out (just in time for St. Paddy's!) we put together a list of the Top 10 Best Irish Whiskeys as rated by the Abov community. The list includes some classic single malts, single pot still style whiskeys, and some unique and rare releases.
Which bottle of Irish Whiskey is your favorite? Do you enjoy this style regularly, or especially for St. Patrick's Day? Let us know in the comments, and also be sure to download and update your Abov App for even more whiskey recommendations and reviews.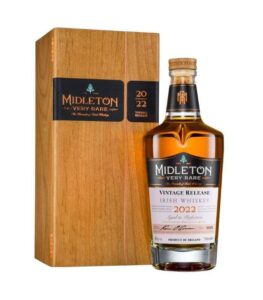 This annual release from the Midleton Distillery in County Cork Ireland will run you close to $300, but is well worth the price tag according to your reviews.
A blend of Irish single grain and single pot still whiskeys aged up to 35 years, this is the very best of the best from Midleton, as only a select few oak aged casks make it into the blend. A perfectly smooth dram, this one has prominent notes of oak, caramel, and banana bread.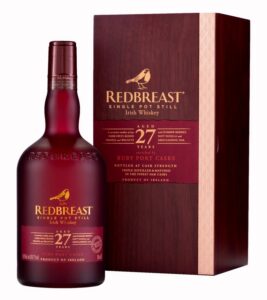 Next up on the list of Top 10 Best Irish Whiskeys, we switch to another favorite brand; Redbreast. This single pot still whiskey is aged for 27 years in a combination of bourbon and sherry casks, and is praised for its rich, complex flavors and aromas, with notes of dried fruit, cherries, berries, spice, and oak.
This is the oldest of Redbreast's offerings, and may very well be their best. The long maturation time really enhances the flavors and adds a pleasant, oily mouthfeel to round out the drinking experience.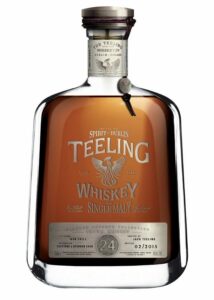 Teeling is a re-founded distillery in Dublin, and as their Phoenix branding suggests, is one that has really risen from the ashes to great prominence in the Irish whiskey world.
Teeling 24 Year Old is an Irish single malt, aged for 24 years in ex-bourbon casks and finished in Sauternes wine casks. It is known for its complexity, with an abundance of honey, vanilla, fruit, and spice.
4. Red Breast 12 Year Old Cask Strength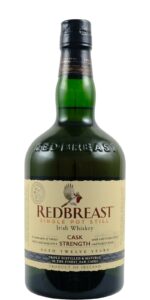 Another one from Redbreast, number four is the classic 12 Year Old, but the cask strength release. Despite it's much younger age compared to many of the other bottles on the list, the cask strength bottling really ups the flavor (if you aren't afraid of the higher abv).
This bottling consistently ranks higher than many of the older expressions, aside from the 27 year old, and is an absolute flavor bomb. It's everything you all love about Redbreast, with the intensity cranked to 10!
5. Midleton Barry Crockett Legacy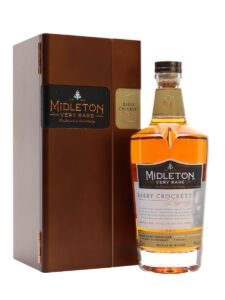 Midleton Barry Crockett Legacy is an Irish whiskey that is named after Barry Crockett, who served as the Master Distiller of the Midleton Distillery from 1981 to 2013. It is a premium blend of single pot still and grain whiskies that have been aged between 10 and 25 years in a combination of bourbon and new American oak casks. The whiskey is triple-distilled, which is a traditional Irish whiskey-making process that creates a smoother and more refined taste.
Midleton Barry Crockett Legacy is known for its complex and rich flavors, which include notes of vanilla, caramel, toffee, honey, and toasted oak. It has a silky texture and a long, smooth finish. This whiskey has won numerous awards and accolades, and is another great example from the Midleton Distillery.

We're noticing a trend here, but we aren't going to argue with a third Redbreast on the list. While the other two focus on age and strength, the PX Edition takes the standard Redbreast 12 and layers on an additional finishing in Pedro Ximénez Sherry Hogsheads.
Described as an almost "Christmas Whiskey", this one is very sweet and fruit forward, with a very strong PX influence taking over much of the flavor.
7. Teeling 15 Year Old Revival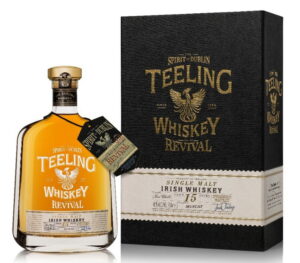 The number 7 Best Irish Whiskey is another limited release from Teeling. The 15 Year Old Revival is a special finishing series, and the one featured on our list is actually Volume IV. 
Finished in Moscatel Wine Barrels, this single malt displays floral, sweet, and fruity notes, with a hint of tartness, balanced by oak and caramel.
8. Blue Spot 7 Year Old Cask Strength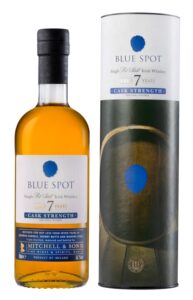 Another younger cask strength bottle, this one from the Spot brand. Fun fact: Midleton, Redbreast, the Spots, & Jameson (along with a few other brands) are all owned by Irish Distillers, a subsidiary of Pernod Ricard.
Anyway, the cask strength Blue Spot is another single pot still style Irish Whiskey and a flavor explosion. Notes of tropical fruit, honey, vanilla, butter, cookies, brown sugar, cinnamon, and more.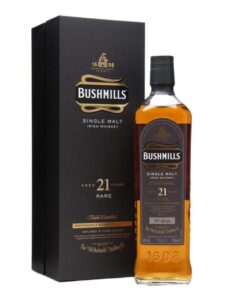 It would probably be impossible to have a Best Irish Whiskey list without a bottle from Bushmills. Don't let the reputation of their mass market products dissuade you; Bushmills crafts some quality drams.
This 21 year old single malt spent time aging in ex-bourbon and Oloroso Sherry casks, with a Madeira Wine cask finish. Despite the abundance of red wine, this Bushmills has a more old and distinguished flavor, with notes of leather, nuts, and oak.
10. Jameson 18 Year Old Limited Reserve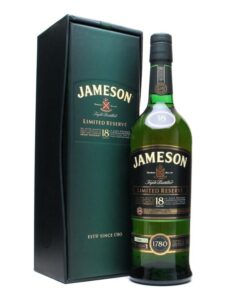 We round out the list with another legendary Irish brand in Jameson, and their 18 Year Old Limited Reserve bottling in particular. The only blended whiskey on the list, this whiskey is produced from a mix of single malt and single grain whiskeys, blended to perfection by Jameson's master blender.
Sweet, smooth, and delicious, this is a huge step up from the standard Jameson bottling!
Whiskey has a storied history in Ireland, and Irish Whiskey is a unique and delicious style that deserves a spot on everyone's whiskey shelf. If you are less familiar with the style, you may think it's just something for taking shots on St. Patrick's Day, but as you can tell from our list of the Top 10 Best Irish Whiskeys, it's a style on par with the best bourbons or single malt scotches out there.
Which Irish Whiskey is your favorite or which would you most like to try? Let us know in the comments below!