Top 10 Best Winter Whiskeys
If you are anything like us here at Abov, you probably are happy to enjoy a pour of delicious whiskey year round, in every season. The specific type of whiskey you reach for may vary depending on the weather, and what you have in your glass will likely look very different on a hot summer night versus a bleak, snowy winter day huddled near a fire.
Given it's the middle of February, and many of you recently experienced record colds and wind chills, we compiled some appropriate whiskeys perfect for winter. Bolder, richer flavors, deeper fruit and spice notes, and some seasonal ingredients and names all make the list.
The following are the 10 Best Winter Whiskeys to warm you up until spring.  Let us know if we missed one of your favorite cold weather whiskeys in comments, and if you haven't already, go download the Abov App for even more whiskey ratings and reviews!
Kicking off the list of Winter Whiskeys is this release from Bluebird Distilling outside of Philadelphia, PA.
They take their standard, four-grain bourbon and amp it up for the coldest time of the year. According to Bluebird, they "add of a pinch of brown sugar, and then steep in a meritage of winter spices. Warm notes of vanilla, baking spices, orange zest and toffee fill every sip."
Dalwhinnie Winter's Gold is a single malt Scotch whisky from the Dalwhinnie distillery in Scotland. The distillery is located in the Highlands region of Scotland and is known for producing whisky with a light, floral character.
Dalwhinnie Winter's Gold is matured in American oak ex-Bourbon casks, which impart notes of honey, fruit, and spice to the final product. It is characterized by its smooth and honeyed character, with a rich and warming finish. Ironically, many users recommended serving this ice cold (chilling the bottle in the freezer) creating a more viscous mouthfeel.
Nothing goes better after a frigid winter day than a tall glass of hot chocolate. Or a whiskey. We like whiskey.
But what if you could have both? No, don't top your hot chocolate off with whiskey, instead grab yourself a pour of Woodford Reserve Master's Collection – Chocolate Malted Rye.
A generous 15% of this bourbon's mashbill is chocolate malted rye, creating a complex bourbon with rich and flavorful notes of chocolate, spice, and vanilla.
This is a ultra-limited edition whiskey produced by the Stranahan's Distillery in Colorado. 2022 marked the 25th edition of Snowflake. It's called Batch #25: Humboldt Peak, in keeping with the Stranahan's tradition of naming each Snowflake release after a "14er", or a Colorado mountain over 14,000 feet high.
The whiskey is made using a different blend of wine and rum finishes each year, making each release unique. It is known for its rich and flavorful character, with notes of dark fruit, honey, and spice.
If the name doesn't explain why this single malt is on the list of Top 10 Winter Whiskeys, the all white bottle and frost covered box certainly will.
Aged 21 years, also leveraging Canadian Ice Wine casks, Winter Storm is the third release in Glenfiddich's Experimental Series. Similar to the previous whiskey, extra sweet, candied fruit notes are balanced with the mature malt, leading to a dram that will give you visions of sugar plum fairies dancing in your head.
5. Wayne Gretzky Ice Cask
Speaking of people that embrace the cold of winter; Canadians.
Former Canadian ice hockey legend Wayne Gretzky has his own line of Canadian Whisky, and this release is aged in casks that previously held ice wine, also produced by Gretzky's winery.
Ice Wine is a very sweet dessert wine popularly produced in Canada and parts of the northern United States, where the grapes are allowed to freeze in the early winter before being harvested and processed. The resulting impact on the whiskey? Extra sweetness, fruit, and vanilla.
4. Stauning Rye Winter Edition
Another winter-themed rye, this one is from Stauning Distillery in Denmark. Opened in 2005, Stauning is actually the oldest active distillery in Denmark.
The Winter Edition blends 70% rye with 30% malted barley to create a tasty dram filled with bold notes of rye, cloves and cinnamon.
Danish whiskey may not have the same international reputation as other country's whiskeys, but you should definitely trust a Scandinavian distillery with making a whiskey that can stand up to the long, dark, cold winter nights.
Number three on the list is the second in the series of flavor story-telling "A Tale of" releases from Glenmorangie. A Tale of Winter, as the name and label design implies, attempts to convey the flavors of the cold winter season.
This single malt Scotch whisky is smooth and creamy, with notes of vanilla, honey, and toffee.
2. Isle of Jura Winter Edition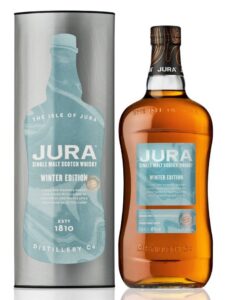 This is a single malt Scotch from the Isle of Jura distillery in Scotland. The whiskey is aged in ex-Bourbon and ex-Sherry casks, which give it its distinctive smoky character with a touch of sweetness. The finish is long and warming, with notes of peat smoke, dark chocolate, and spices, making it a perfect cold weather pour.
No better way to start of a list of top winter whiskeys than with the cult favorite, a Midwinter Nights Dram from High West Distillery. Perhaps unsurprisingly, Midwinter Night also topped our list of Top American Ryes, and this highly sought after bottle is full flavored and delicious.
Spicy rye and sweet port blend together in a snowy symphony of seasonal flavor, leading to a dram that is best described as a warm winter cookie.
Whether you are adventuring to the ice rink, hitting the ski slopes, or just hiding under a blanket trying to avoid the cold, one of our Top 10 Winter Whiskeys may be exactly what you need to warm yourself up from the inside. Plus, they all come packed with some delicious and unique flavors.
Do you have a favorite whiskey that you prefer to enjoy in the winter months? Leave your recommendations for your best Winter Whiskeys in the comments below!