Abov App Top 10 Whiskeys of 2020
2020 is in the books, so once again it is time to look back at the year that was and highlight some of the great bottles you all in the Abov community were most excited about. Continue on below to see all your favorites with the Top 10 Whiskeys of 2020.
10. Highland Park Cask Strength Release No. 1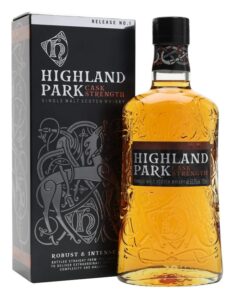 Kicking off the 2020 Top 10 Whiskeys list, we have a popular cask strength bottling. Heading to Scotland, number 10 is a Highland Park single malt bottled at a robust 63.3% ABV.
This one definitely benefits from a few drops of water, opening up the intense sherry, dried fruit, and oak flavors, and cutting through the strong alcohol content and oily mouthfeel.
9. Port Charlotte 16 Year Old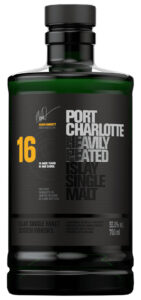 The classic 10 year old expression from Port Charlotte made the 2018 list, and Bruichladdich is back in 2020 in a big way with this 16 year old release.
Bourbon and Sherry barrel aging with a delightfully peaty malt blend together into a perfect Islay dram featuring a balance of smoke and rich fruits.
8. Blue Spot 7 Year Old Cask Strength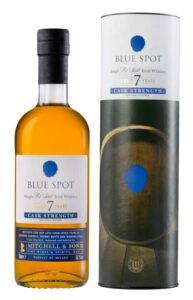 The 8th spot (pun intended) is taken by Blue Spot 7 Year Old Cask Strength, and the first Irish Whiskey to make one of Abov's annual lists.
This single pot still Irish whiskey is matured in a combination of ex-bourbon, sherry, and madeira wine casks and bottled at an ABV of 58.7%. Brown sugar, caramel, honey, vanilla, cinnamon, and spice all wash across the palate, leading to a long and strong finish.
7. Talisker 08 Year Old Special Release 2020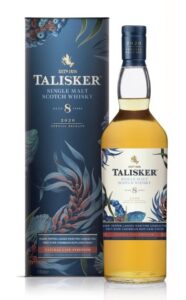 Diageo puts out a limited release bottling each year for many of it's brands, but the one Abov users were most excited about in 2020 was the Talisker 8 Year Old Special Release.
This edition is aged in a combo of bourbon and rum barrels, which when combined with Talisker's seaside peaty malt produces a whole host of flavors.
Salt, peat, lime, pepper, vanilla, brine, white wine, smoked pineapples, seaweed, mint, peanuts, chocolate, rum… The list goes on. A complex dram to try to get your hands on.
6. Bulleit Blenders' Select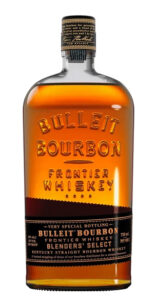 Another limited bourbon release to top the 2020 list, this one from Bulleit Distilling.
Bulleit Blenders' Select is a carefully crafted blend of several different bourbons, selected by the brand's master distiller and blender. The whiskey is aged for a minimum of six years and is characterized by its smooth, complex flavor profile with notes of vanilla, oak, and a hint of spice. The whiskey has an alcohol by volume (ABV) of 45%.
5. Old Forester Birthday Bourbon 2020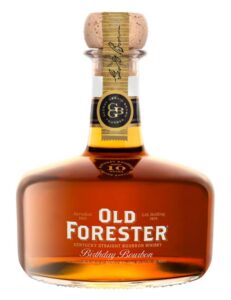 Get out the cake and blow out the candles to celebrate the 2020 release of Old Forester's Birthday Bourbon! Birthday Bourbon always tops the list of hard to get annual releases, and is blended from only the best barrels on hand in the Old Forester warehouses.
The special release was created to commemorate the birthday of Brown-Forman Distillery founder George Garvin Brown. The bourbon is bottled at a high proof and is characterized by its rich, full-bodied flavor and smooth finish.
4. Glenmorangie a Tale of Cake
Speaking of cake, the master blenders at Glenmorangie may have been thinking about birthdays when crafting "A Tale of Cake".
Finished in Tokaji Wine casks, the sweet dessert wine does a lot of the heavy lifting in shaping the flavor profile.
The result? Cake…obviously. As reviewers described it, not an artificially sweet kind of cake, but more of a subtle, boozey cake. Semi-sweet, buttery, spiced rum, and vanilla notes all dominate the palate.
3. Elijah Craig Toasted Barrel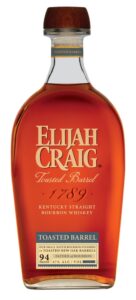 Elijah Craig Toasted Barrel is a bourbon whiskey from the Heaven Hill Distillery in Bardstown, Kentucky. This release is made by aging standard Elijah Craig Bourbon in a second, newly toasted oak barrel. This secondary maturation process imparts additional flavors of toasted oak, vanilla, and caramel to the whiskey, resulting in a richer, smoother, and more complex flavor profile.
Number 2 on the list of Top 10 Whiskeys of 2020 is the Ardbeg Blaaack. Ardbeg's annual releases made both our 2018 and 2019 lists as well, so no surprise to see the Blaaack here in 2020.
Ardbeg Blaaack is matured in ex-Bourbon casks, as well as casks that have been heavily charred and then treated with a special dark red wine finish, giving it its "Blaaack" name. This unique maturation process imparts dark fruit and wine notes to the final product, along with the traditional peat smoke and spice flavors of an Ardbeg whiskey.

The Wee Beastie is a new bottling added to Islay distillery Ardbeg's core range. Coming in at only 5 years of age, the Wee Beastie is only half the age of the standard 10 year old Ardbeg.
But don't let the lack of maturation time fool you; this is a young and energetic malt, aged in a combination of ex-Bourbon and ex-Sherry casks. It is characterized by its rich and smoky flavor profile, with notes of peat smoke, dark chocolate, and spices. If you have yet to try a peated Scotch from Ardbeg, this is a great entry point.
Year after year, you all have helped us put together some seriously good looking lineups for our annual top 10 lists. Keep reviewing and updating your wishlists!
Looking for even more great whiskey that the Abov community can't get enough of? Check out our previous annual top 10 lists: