Abov App Top 10 Whiskeys of 2021
The excitement is palpable as once again it is time to reveal the annual list of Abov App's top whiskeys. While there are plenty of newcomers, 4 whiskeys from 2020 have topped the list once again! Continue on below to see all your favorites with the Top 10 Whiskeys of 2021.
10. Ardbeg Arrrrrrrdbeg – Committee Release

For the fourth year in a row, the annual Ardbeg special release has made our list. Who knew there were so many peatheads in the Abov community?!
The name "Arrrrrrrdbeg" is a playful nod to the pirate-themed bottling, which ironically is not aged or finished in rum barrels as one might expect, but actually uses rye whiskey barrels in the maturation.
The whiskey itself is said to have a bold, smoky flavor profile with notes of peat smoke, sea salt, and dark chocolate.
9. Glenmorangie 12 Year Old Malaga Cask Finish

Glenmorangie has really taken their finishing game up a notch in the last few years, and have continued to experiment with unique finishes, particularly using uncommon wines.
This 12 year old release uses Malaga Wine Casks. Malaga is a sweet, fortified wine produced in the Málaga region of Andalusia in southern Spain. It is made from a variety of local grapes, including Pedro Ximénez and Moscatel, which are known for their high sugar content. The wine is fortified with distilled spirits, such as brandy, which increases its alcohol content and gives it a distinct character.
8. Glenlivet 12 Year Old Illicit Still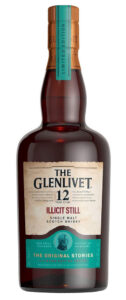 Next up is an easy drinker from Glenlivet, the 12 Year Old Illicit Still release. "Illicit Still" is a callback to the period of time in Scotland's history when distilling whiskey was illegal, and this expression pays homage to the styles and production process of the day.
Fruits, almond, hazlenut, vanilla, honey and fruits, all bottled at 48% ABV.  Not overly sweet, but highly drinkable, this bottle will no doubt find its way on a future iteration of our Light & Smooth Whiskeys list.

The next entry on our list of Top Whiskeys of 2021 belongs to the Kilkerran 16 Year Old. While many of the previous bottles on the list are characterized by their intense and robust flavor profiles, Campbeltown's Kilkerran is known for it's subtle and light fruity malts. Mild and delicate, but still delicious.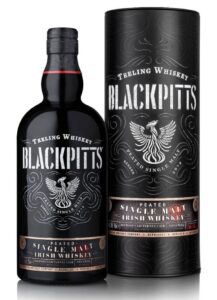 Our first Irish Whiskey to make the list, this one is from Dublin's Teeling Distillery. Unlike many Irish Whiskeys, which go for the traditional "gingerbread snap" flavor experience, Teeling's Blackpitts expression leans on the peat smoke, balancing with light floral and fruit notes from a round of finishing in Sauternes Wine Casks.
The name "Blackpitts" is a reference to an area of Dublin that was once known for its thriving whiskey industry and for being home to numerous small-scale distilleries. The Teeling Blackpitts is said to pay homage to the heritage of Irish whiskey and to the traditional methods of distillation used in the area.
5. Blue Spot 7 Year Old Cask Strength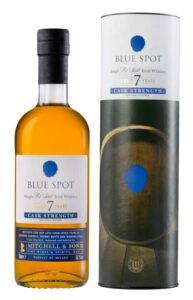 The first 2020 dram to make the 2021 list is the cask strength release of Mitchell & Sons' Blue Spot Irish Whiskey. At 7 years of age and bottled at an ABV of 58.7%, this is an absolute flavor bomb.
We tried to list out all the flavors last year that reviewers described in this single pot still whiskey, but didn't anywhere close to truly capturing what a flavor experience this dram provides.
4. Ledaig Sinclair Series Rioja Cask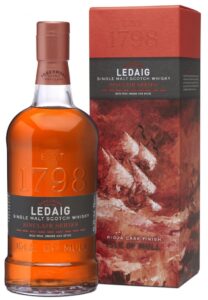 Ledaig Sinclair Series Rioja Cask is a single malt Scotch produced by the Tobermory Distillery located on the Isle of Mull, Scotland. The whiskey is part of the Sinclair Series, which is a range of whiskeys that are finished in various wine casks to add a unique flavor profile to the spirit.
The Rioja Cask specifically is matured in ex-bourbon barrels and then finished in casks that previously held Rioja wine, which is a type of wine made in the Rioja region of Spain. The resulting flavor profile includes hints of red fruit, spice, and vanilla, creating a smooth and well-balanced, complex and satisfying taste.
3. Elijah Craig Toasted Barrel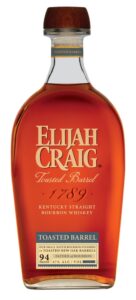 What can we say. You all either had a very hard time finding these bottles, or you just couldn't get enough of them. Number 3 once again on the Top Whiskeys of 2021 is Elijah Craig Toasted Barrel.
This Heaven Hill bourbon has been riding the "toasted" craze,  adding a second barrel finishing to the standard Elijah Craig bourbon production process. This adds more of that vanilla and oaky sweetness that many bourbon fans love.
2. Glenmorangie a Tale of Cake

Another bottle returning to this year's list, jumping two spots from 2020 is Glenmorangie's a Tale of Cake release.
A true dessert whiskey, a Tale of Cake is finished in Tokaji red wine casks. This sweet Hungarian wine imparts the sweet, fruit forward flavors of a spiced rum cake, creating a indulgent experience for any sweet tooth.
Baaack in Blaaack! Finishing at number 2 last year and topping our 2021 list, Ardbeg Blaaack is still one of the Abov App's most wanted whiskeys!
Blaaack gets its name from the heavily charred and dark red wine finished casks that are used in addition to ex-bourbon barrels to mature the single malt. This special release balances the classic Ardbeg peat with spicy dark fruit and wine notes.
As chosen by you all in the Abov community, that wraps up our list of the Top Whiskeys of 2021. Wanting to throw it back a few years? Check out our previous annual top 10 lists: